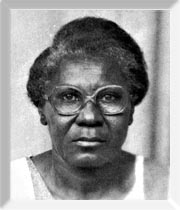 When I was younger, I'd say freshmen year of high school I was going through that whole "who am I" phase that we all go through. I used to do web searches of my last name all the time to just see if I could fine anything cool associated with it. One name I would always see was Louisianne Saint-Fleurant. Is she related to me, more than likely not, but what intrigied me about her all these years was her art and accomplishments as an artist.
Born in 1922 in Petit-Trou de Nippe, Haiti, Louisianne Saint-Fleurant is the "godmother" of the Saint-Soleil School of Painting. She is also the mother of the famous painters Stivenson Magloire, and Ramphis Magloire.

Saint-Fleurant is one of the five founders, and perhaps the most remarkable artist in this famous school, which borrows little from other influences in Haitian art (aside from vodou), and lent a new image to Haitian painting. She is certainly among the foremost female Haitian artists, and has has an enormous influence on the evolution of art in this country.

In the words of Andre Malraux, who "discovered" this new movement in 1974 and introduced it to the world - "it is impossible to determine where it came from or to whom it speaks." In L'Intemporal, Malraux quotes Louisianne Saint-Fleurant to the effect that: "It is through Vodou that we would best approach the creative process of the Saint Soleil painters. In the final analysis, the painter paints because he or she is 'mounted' (possessed) and paints what the loa wants."

Saint-Fleurant is now practically blind, and no longer paints. The paintings in our collection were acquired from the artist between 1983 and 1990, and are excellent examples of her work of that early period. You may also want to take a look at our collections of the paintings of Levoy Exil and fellow Saint Soleil School cofounderDieuseul Paul.
Much the same with a lot of Haitian artists I'd later research, I notice and loved her use of colors. And how unique her artwork was. It had a definate signiture that when you saw it you knew it was hers...something I hope I can one day achieve with my work.
Some of her work: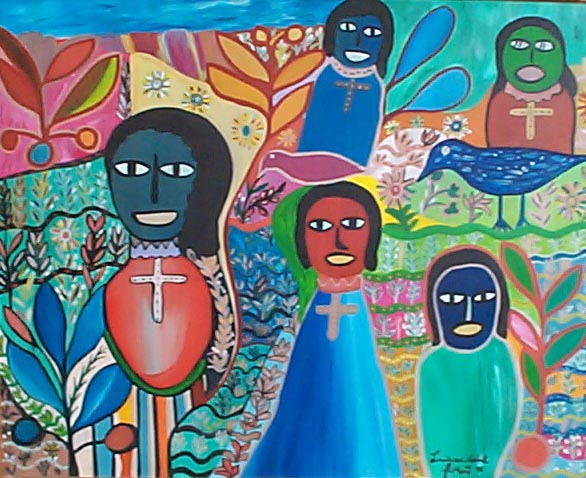 Loas">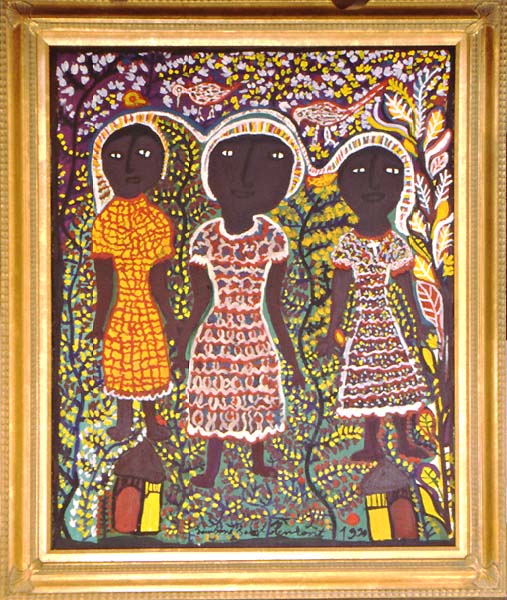 Trois Femmes">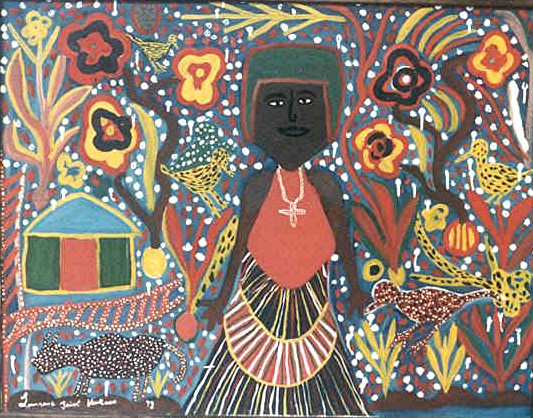 Erzulie Dantor">